Main Content
How Secondhand Smoke Can Harm Your Child's Dental Health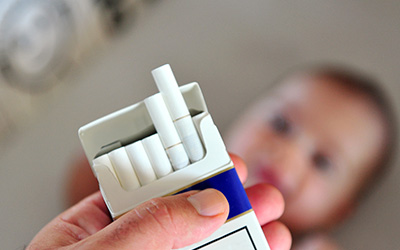 The damaging effects that smoking can have on the health of the smoker are widely known and discussed. However, a lesser-known effect of smoking is the damage it can have on those around you, especially children. Kids exposed to secondhand smoke by spending time with smokers may suffer from many health issues, including:
Respiratory illnesses
Increased risk of asthma
Chronic ear infections
Increased risk of sudden infant death syndrome (SIDS)
In addition to these many health problems, secondhand smoke can also cause damage to a child's dental health, usually in the form of tooth decay. Even if the smoker goes outside or leaves the room to smoke a cigarette, children who live with smokers are still 50% more likely to suffer from dental cavities and tooth decay than those who live with non-smokers. Additionally, the younger a child is exposed to secondhand smoke, the more likely they are to have these problems.
Secondhand Smoke & Tooth Decay
Secondhand smoke causes tooth decay by:
Causing the tissues of the mouth to become inflamed and irritated
Impairing the salivary glands, causing dry mouth
Causing an immune dysfunction, making it difficult for the body to fight off infection
Lowering the levels of vitamin C in a child's body
If cavities and tooth decay in childhood go untreated, they can cause discomfort, pain, and impaired dental health as an adult. Not to mention expensive and uncomfortable dental procedures to fix the problems.
The best thing you can do for your child's health is to quite smoking today. For information on how to quit, or to schedule an appointment for your child, please contact Great Outdoors Pediatric Dentistry, located in Dover, NH.