A+
A-
A
Main Content
Difference Between Pediatric Dentists & General Dentists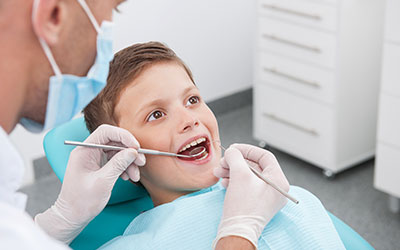 For the same reasons that you take your child to see a pediatric doctor instead of a general doctor, you should be bringing your kids to a pediatric dentist instead of a general one. Choosing a pediatric dental office for your children will allow you to ensure that your child's development is progressing properly and your child is learning good dental habits to last a lifetime.
How Pediatric Dentists are Different
A pediatric dentist like Dr. Wilson here at Great Outdoors Pediatric Dentistry, has to undergo an additional two years of training after medical school. These two years of specialized education allow us to better work with children and identify their unique dental health needs and concerns.
Here at Great Outdoors Pediatric Dentistry, our goal is to help make all children feel comfortable and confident about visiting the dentist. It's important to us that your children have an anxiety-free visit to our office, so please let us know beforehand if your children have any fears or phobias regarding the dentist.
Pediatric Dentistry & Teens
Your adolescents will also require specialized dental attention. This is the time of life when your teen may begin to feel self-conscious about his or her smile. Additionally, as teenagers take on more responsibility for their own diets and dental healthcare routines, we see more dental cavities and decay cropping up. A pediatric dentist will be able to provide a more positive approach to helping your teen learn how to achieve and maintain a healthy, beautiful smile that they can be proud to show off.
To learn more about how a pediatric dentist can improve the dental health of your children, please contact Great Outdoors Pediatric Dentistry today. Our children's dentist is located here in Dover, New Hampshire.