Main Content
All About Frenectomies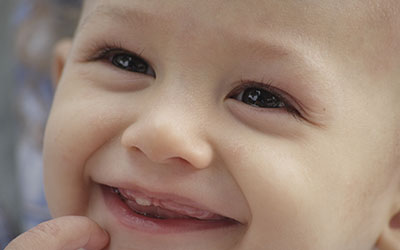 If your child has difficulty speaking or has a large gap between his or her front teeth, you may want to ask your pediatric dentist about a frenectomy. A frenectomy is a surgical procedure where a laser is used to sever a frenum. A frenum is the small piece of skin attaching two tissues of the mouth, whether the lips, gums, or cheeks. The two types of frenum in your child's mouth are the labial frenum and the lingual frenum.
Types Of Frenum & Disorders
Lingual Frenum – The lingual frenum is the tissue that connects the tongue to the floor of the mouth. If this piece of tissue connects too far up on the tongue, it can restrict tongue movement. This is known as being 'tongue tied.' Sometimes this problem can cause issues with a child's speech and eating abilities.
Benefits Of Lingual Frenectomy
Can improve the appetite and eating abilities of the child
Will improve speech function of the child
Labial Frenum – The labial frenum is the tissue connecting the upper lip to the gums (between the two front teeth). If this tissue goes down too far on the gums, it can result in a sizable gap between the front teeth. If it's too tight, it can cause gum recession.
Benefits Of A Labial Frenectomy
Eliminates the gap between the front two teeth
Increases self-confidence in the child
Will reduce any pain or discomfort felt
Improves the bite function of the child
For more information about frenectomies, or if you child may need the procedure done, please contact Great Outdoors Pediatric Dentistry. Our office is located in Dover, NH.