A+
A-
A
Main Content
A Few of the Many Benefits of Braces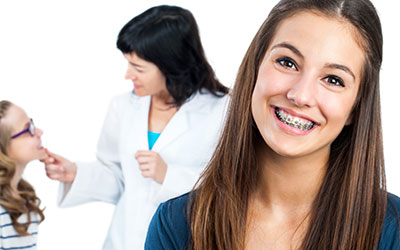 At Great Outdoors Pediatric dentistry, we know that many of our patients are currently undergoing orthodontic treatment or eventually will be. Orthodontic treatment can create more beautiful smiles, which can boost confidence and make you happier with your overall appearance. However, there are many other great benefits of receiving braces.
Benefits of Receiving Orthodontic Treatment
The most obvious benefit of receiving braces is the enhancement of the aesthetics of the smile. However, straight teeth can also provide other benefits, such as:
Straight teeth make it easier to properly bite and chew food.
Straighter teeth will allow the jaws to fit together more comfortably, helping you achieve a proper bite pattern.
Receiving orthodontic care can improve or eliminate speech problems by correcting the position of the teeth.
Properly aligned teeth are much easier to keep clean and healthy.
Lastly, having healthier teeth has been linked to better overall health as well.
Here at Great Outdoors Pediatric Dentistry, we want to make sure our patients have healthy and beautiful smiles! There is a wide array of orthodontic treatments available, so to learn more about them, please contact your orthodontist.
To make an appointment for your child to receive a regular dental cleaning and exam, please don't hesitate to contact Great Outdoors Pediatric Dentistry here at our Dover, New Hampshire location. It's important to receive your regular checkups even during orthodontic treatment!