Main Content
Tooth Sensitivity In Children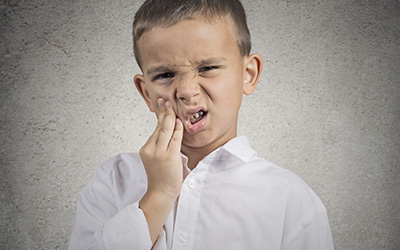 If your child suffers from tooth sensitivity, it can make things miserable. Sensitive teeth can lead to pain during speaking, chewing, and even breathing. The wearing down of tooth enamel, which exposes the nerves underneath, often causes sensitive teeth. This will cause pain during the exposure to hot or cold temperatures or even air.
Luckily, there are ways to help your child with the pain associated with sensitive teeth. If your child complains of tooth pain in multiple teeth, sensitivity may be the cause.
Easing Pain Caused By Tooth Sensitivity
Change Your Child's Toothbrush – You should be changing your child's toothbrush regularly anyway, but if your child is suddenly complaining of sensitive teeth, you may want to consider switching now. Make sure your child brushes with a soft-bristled brush or with one targeted to those with sensitive teeth.
Switch Toothpaste – There are many gentle toothpaste formulas for those with sensitive teeth. These types of toothpaste contain potassium nitrate or strontium chloride. These ingredients will help block pain signals to the nerves of the teeth, easing the pain.
Keep a Diary Of Flare-Ups – Certain foods can cause more discomfort for your child than others. Keep track of the foods your child eats and note which ones tend to cause the pain to worsen. Once you know what kinds of food make the pain worse, you can help your child avoid these foods.
Visit Our Office – Lastly, please let us know if your child is suffering from tooth sensitivity. There are things we can do to help ease pain associated with sensitive teeth.
If your child is suffering from sensitive teeth, please don't hesitate to contact Great Outdoors Pediatric Dentistry to make an appointment. Our pediatric dental office is located in Dover, New Hampshire.