Main Content
Protecting Your Child's Teeth During Sporting Activities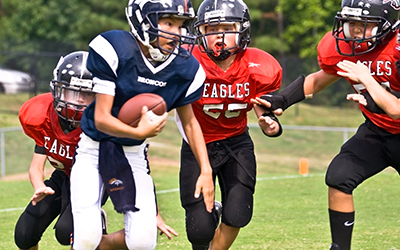 Sports are great for kids! Not only will they improve your child's motor skills and provide exercise, but sporting activities will also help them learn how to socialize, work as a team, and solve conflicts with peers. However, as great as sports are for your kids, they also come with some drawbacks, especially when it comes to your child's teeth. Contact sports such as karate and football are notorious for causing accidental tooth loss.
There are a number of ways that your child's teeth and jaw can become damaged during sports. We certainly aren't suggesting that you don't allow your child to participate in sports; we just want you to be aware of the risks and know how to minimize them.
Protecting The Teeth Of Your Little Athlete
Before sending your child off to the football field, it's important to first make sure they've been fitted with a custom mouth guard. A mouth guard is a mouth accessory made of soft plastic. This plastic has been molded to fit your child's teeth perfectly. They aren't an especially fun or comfortable accessory to wear, but make sure your child knows the importance of his or her mouth guard.
Mouth guards prevent the upper and lower jaws from slamming together in the event of a sports injury. Not only will this prevent tooth loss and damage, but mouth guards have also been known to reduce the risk of concussions as well. If your child is involved in sports, a mouth guard is a necessary part of the equipment.
To make an appointment for your child to receive a custom mouth guard, please don't hesitate to contact Great Outdoors Pediatric Dentistry here at our Dover, New Hampshire office.